Use "Easy Screen" to keep peace and comfort in your home.
This is a line of screen products that will respond to your needs.
Whether you need to replace a screen or make one from scratch, EasyScreen allows you to do it fast and easy. Pre-cut screens for patio doors and windows are sold in boxes and are also available in rolls.
EasyScreen offers a wide range of products and accessories. Fiberglass and aluminum nets are available among others, according to the type of screen needed.
EasyScreen offers products such as pet door for screen, adjustable screen for windows, micromesh, frame kits, spline and installation tools, in short, equipment to carry out fast and easy professional work.
Need help to install our screen products?
View our installation videoclips.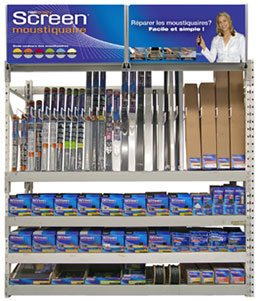 Tips and Tricks
Repairing instead of replacing
Most small tears can easily be repaired to be more or less noticeable. Therefore, if the damaged portion of the fabric is located in an inconspicuous section, why not simply repair?
For fiberglass fabric, sew together the ends of the tear using sewing thread the same color as the fabric. For a less conspicuous repair, try to stick the ends together using waterproof adhesive and withdraw the thread once the adhesive is dry. Other alternative : using a sewing thread, fasten a piece of screen fabric over the damaged portion.
You could more or less do the same thing with aluminum fabric, but without sewing : cut out a square in order to leave small ends of wire all around it (you will obtain this aspect : #), fold up these ends of wire at 90 degrees, then place the square over the portion to be repaired. Fold up the ends of wire on the fabric to maintain the part in place and finally, cut out and remove the damaged portion (cut out a square a little smaller than the damaged portion).
If repair is not possible or if the damaged portion is too apparent, then it is best to replace the entire screen.
Micro Mesh : No more midges
Midges are the smallest biting insects. Because of their small size, they pass through ordinary screening. Only the Micro Mesh can prevent them from coming inside your home. It is thus the best choice of screening in non urban zones, where midges proliferate.

© 2014, RCR International Inc.